Often in my life I look to doing personal challenges to help enrich, inspire, and push my creative boundaries. This current challenge on instagram that I am doing ( #the100day project ) was something I decided to do based on my personal beliefs mentioned (and the fact that i love creating patterns!).
It started out quite simply: utilize some of the many drawings and doodles I have captured in my sketchbook over the past while and create funky repeat patterns - then post them on instagram with a unique hashtag you can call your own ( mine being #100patternsbypaula )!
This challenge has really tested not only my creativity, but my diligence to keeping focused and organized. No matter what is happening in my life over the next 100 days since this project began, I must continue to draw, scan, create patterns, and post them on instagram. I also wanted to experiment with colour - using not just the colours I feel comfortable with but to also try pinks, pastels, and a bit of neutral with bright colours, etc etc..
I think it has really allowed me to just be... me! Working from the heart and experimenting with no restrictions is something most people desire in their every day lives. So this is why I am just having so much fun :-)
"It's okay to tone stuff down with pastels" I said to myself. And something I draw in my sketchbook that may look blah on paper as a single doodle - could turn into the funkiest and most incredible pattern! But one has to try.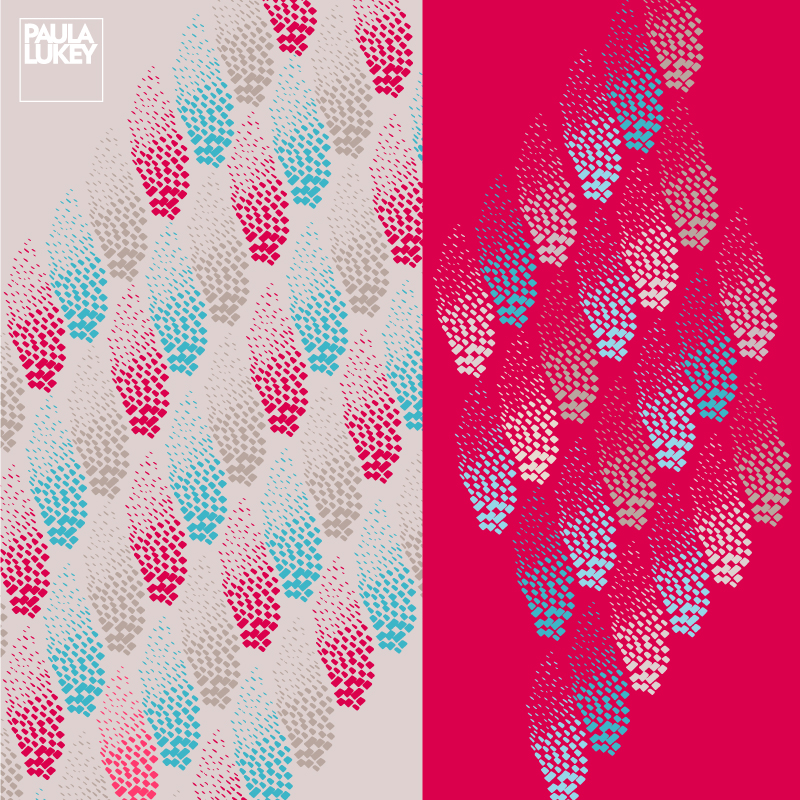 This one above was the first one i started with. In black and white as a sketch it was okay, but then i started repeating it and adding colour - and suddenly it came alive!
So the moral of the story is to just begin.
Tell yourself you are going to do it, commit to it - and you will be surprised what can happen. That's really what pushed me to start. And now that I have this portfolio of patterns, I am visualizing a new line of products beginning to take shape :-)